Floating diner of lunch in Giethoorn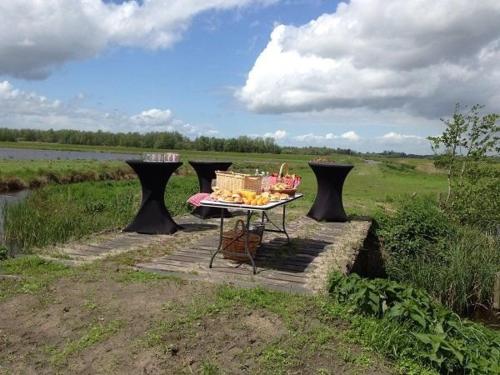 Saai een diner in een restaurant? Meerder gangen en ondertussen over het water kabbelen?

De dames van de jonge heeft de oplossing! U wordt ontvangen met een gezellige borrel bij de dames van De Jonge in Giethoorn, na deze borrel brengt de gastheer/vrouw u naar de rondvaartboot of fluisterpunters. U vaart naar het eerste restaurant. Hier meren we aan waar u gaat genieten van een voorgerecht, na dit voorgerecht stappen we weer aan boord voor een tochtje over de waterlopen van Giethoorn naar het hoofdgerecht. Na dit gerecht varen we terug naar de startlocatie . We hebben deze avond of middag een mooie route uitgestippeld met onderweg  de lekkerste restaurants van Giethoorn.

Dit arrangement is te boeken vanaf 20 tot 40 personen op één boot, tevens zijn kleine fluister punters ook mogelijk maximaal 5 personen per boot.
Programma:
16.00 uur: Borrel of bij een lunch koffie of thee met lekkernij bij de dames van de jonge
18.00 uur: Voorgerecht in eerste restaurant 18.45 uur: Varen naar tweede restaurant
19.15 uur: Hoofdgerecht in tweede restaurant
20.00 uur: Varen naar het dessert bij de dames van de jonge
20.30 uur: Dessert in de dames van de jonge
21.00 uur: Kopje koffie, likeurtje en bonbons
21.30 uur: Einde arrangement

Inclusief:

? Uitgebreid diner
? Boothuur ? Gids aan boord (bij meerdere punters een gids)
Bediening ? Drankje aan boord

Kosten: 

? 64,50 per persoon.

Optioneel: 

Komt u niet aan het minimale aantal deelnemers? Als u bereid bent voor het minimale aantal te betalen, kunt u ook gewoon voor minder personen boeken!

Meer informatie:
Tel: 0521-361360
E-mail: info@dedamesvandejonge.nl